ASEAN Data Science Explorers Regional Finals 2023: Building innovative and Future-focused Solutions with Data Analytics 
ASEAN Foundation and SAP Collaborate to Future-Ready Youths with Digital Skills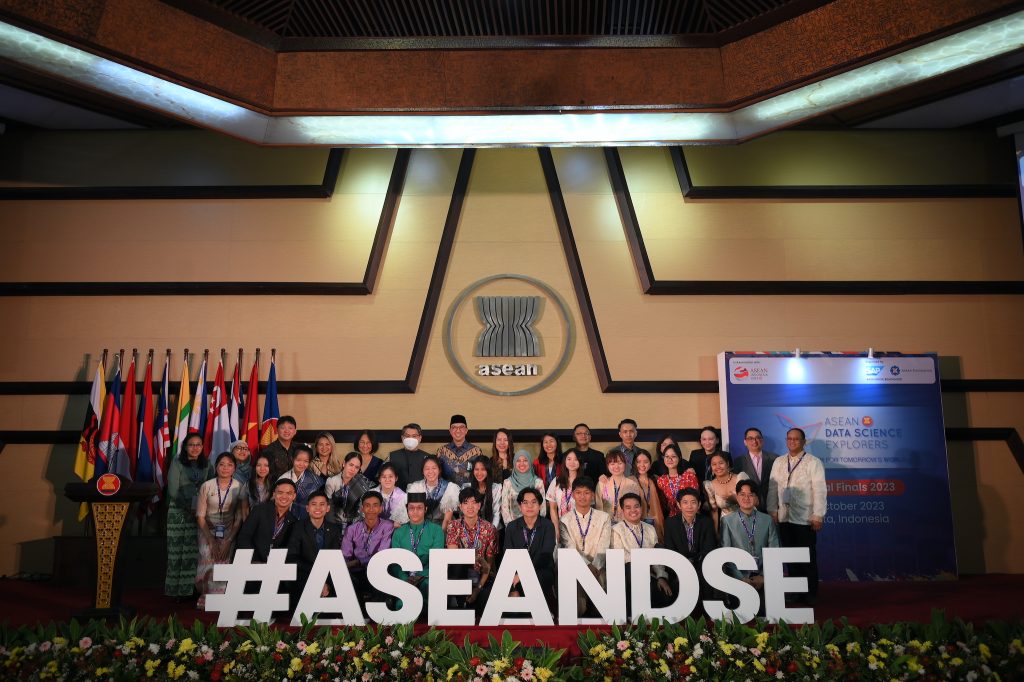 (Jakarta, Indonesia, 24 October 2023) – ASEAN Foundation, together with SAP, held the regional finals of its flagship programme, ASEAN Data Science Explorers (ASEAN DSE) to empower youth-led social enterprises and young talent in ASEAN to create innovative solutions that deliver inclusive economic benefits across the region. Youth representatives of 10 ASEAN Member States have gathered in Jakarta to present data-driven proposals they developed using SAP Analytics Cloud, a single solution for business intelligence and enterprise planning, augmented with the power of artificial intelligence, machine learning technology, and predictive analytics.
The team from Malaysia, Walaoeh, was named the Regional Winner of ASEAN DSE 2023, "We are very happy, not only because our proposal received the highest score, but also because this competition gave us valuable experience meeting friends from other ASEAN countries. ASEAN DSE 2023 is not only a data science explorer competition, it is a special competition that brings ASEAN youth closer, encourages us to think about inclusivity, and injects a consciousness to think about scaleability of ideas across ASEAN," Yen May Lee and Jie Si Yee, both students at the University of Nottingham, Malaysia.
This year, ASEAN DSE brings the spirit of 'Today's Youth for Tomorrow's World' and invites ASEAN youth to optimise their role in overcoming socio-economic problems faced by the region. "ASEAN DSE is one of the flagship programmes designed to realise ASEAN's vision to build a cohesive and prosperous community. You do this by utilising technology that can package data into a force that can be used to overcome socio-economic issues around us. Creativity and skills will be needed and for that ASEAN Foundation in collaboration with SAP trains youth to explore data and science and use them to create products and services that can be solutions to issues faced by society," said Dr. Piti Srisangnam, Executive Director of ASEAN Foundation.
"Data analytics and AI skills are the cornerstones of preparing Southeast Asia's youth for the digital economy. As industry leaders, we must invest in these talents to empower them to shape a future-ready workforce, drive innovation and fuel growth in our dynamic region," said Verena Siow, President and Managing Director, SAP Southeast Asia.
The collaboration between SAP and ASEAN Foundation has been ongoing since 2017 and until now has successfully trained and improved data analysis skills of more than 71,630 youth in 10 ASEAN Member States. "Together with ASEAN Foundation, SAP encourages youths to continually enhance their data skills, gain insights into complex issues, and comprehend the impact of specific problems. The ability to analyse data can help generate innovative solutions that address solve the world's social, economic, and environmental challenges," Siow added.
The efforts of the ASEAN Foundation and SAP also received support from the Indonesian government. The Ministry of Education, Culture, Research, and Technology through the Director General of Early Childhood Education, Primary Education, and Secondary Education (Dirjen PDM), Dr. Iwan Syahril, said that the ASEAN Data Science Explorers programme is in line with the government's Merdeka Belajar (Emancipated Learning) initiative.
"The youth of today are deeply committed to addressing socio-economic challenges within their communities. They are eager to make a positive impact. This is where I believe how the ASEAN Data Science Explorers Programme is inline with the Emancipated Learning. Through one of our initiatives, Indonesian students for the first time in history are now able to learn outside of their campus for up to three semesters. The government is giving Indonesian students an opportunity to interact and work together with the community. More than 760 thousand students from all across the country have participated in the programme," said Dr. Iwan at the ASEAN DSE 2023 Regional Finals.
ASEAN DSE continues to work towards realising SAP's mission by encouraging diversity and inclusion in the technology sector to help South East Asia run better and improve people's lives in a sustainable manner. The programme has seen 54% women beneficiaries empowered and impacted since its inception.
Today's ASEAN DSE Regional Final was attended by 20 national champions from ten ASEAN countries, who presented findings and recommendations based on data analysis using SAP Analytics Cloud in addressing socio-economic issues in six SDGs: 1) Clean Water and Sanitation, (2) Affordable and Clean Energy, (3) Decent Work and Economic Growth, (4) Sustainable Cities and Communities, (5) Responsible Consumption and Production, and (6) Climate Action.
The ASEAN SDE program is developed through innovative projects that demonstrate creativity, problem-solving skills, and proficiency in mastering technology. Harnessing technology and creative thinking will result in Future-Focused Solutions that promote considerations about sustainability, diversity, and inclusivity. ASEAN DSE is also prepared to equip ASEAN youth with the data analysis skills needed to thrive and compete in the Industrial Revolution 4.0.
Learn more about ASEAN DSE by visiting www.aseandse.org or its Facebook Group.
SAP and other SAP products and services mentioned herein as well as their respective logos are trademarks or registered trademarks of SAP SE in Germany and other countries. Please see https://www.sap.com/copyright for additional trademark information and notices. All other product and service names mentioned are the trademarks of their respective companies.
About ASEAN Foundation
Three decades after ASEAN was established, ASEAN leaders recognised that: there remained inadequate shared prosperity, ASEAN awareness and contact among people of ASEAN. It was of this concern that ASEAN leaders established ASEAN Foundation during ASEAN's 30th Anniversary Commemorative Summit in Kuala Lumpur Malaysia on 15 December 1997. ASEAN Foundation is an organisation from and for the people of ASEAN. The Foundation exists because of one vision: to build a cohesive and prosperous ASEAN Community. As an ASEAN's body, the Foundation is tasked to support ASEAN mainly in promoting awareness, identity, interaction and development of the people of ASEAN. For more info about the ASEAN Foundation, visit: www.aseanfoundation.org
About ASEAN Data Science Explorers (ASEAN DSE)
ASEAN DSE is a regional digital literacy program aimed to introduce and equip youths, including underserved youths, with data analytics skills through SAP Analytics Cloud. It also aims to promote ASEAN awareness and United Nations Sustainable Development Goals (UN SDGs) and inspire the youths to actively tackle socio-economic issues across the ASEAN region through data-driven solutions. It has been endorsed by the ASEAN Senior Officials Meeting on Youth (SOMY) and ASEAN Senior Officials Meeting on Education (SOM-ED). It is devoted to ASEAN youths aged 16 – 35, taking full-time education at educational institutions based in the 10 ASEAN Member States, and underserved youths. It is manifested in two primary segments: the regional data analytics competition and enablement session. The competition is organised across all ASEAN member states with a regional final taking place onsite in Jakarta on 24 October 2023. For information on past iterations and participants of the program, please visit https://aseandse.org