SAP and ASEAN Foundation announce winners at ASEAN Data Science Explorers Regional Finals 2021
Team Youth Forward walks away with the Regional Champion trophy and prize money of US$1500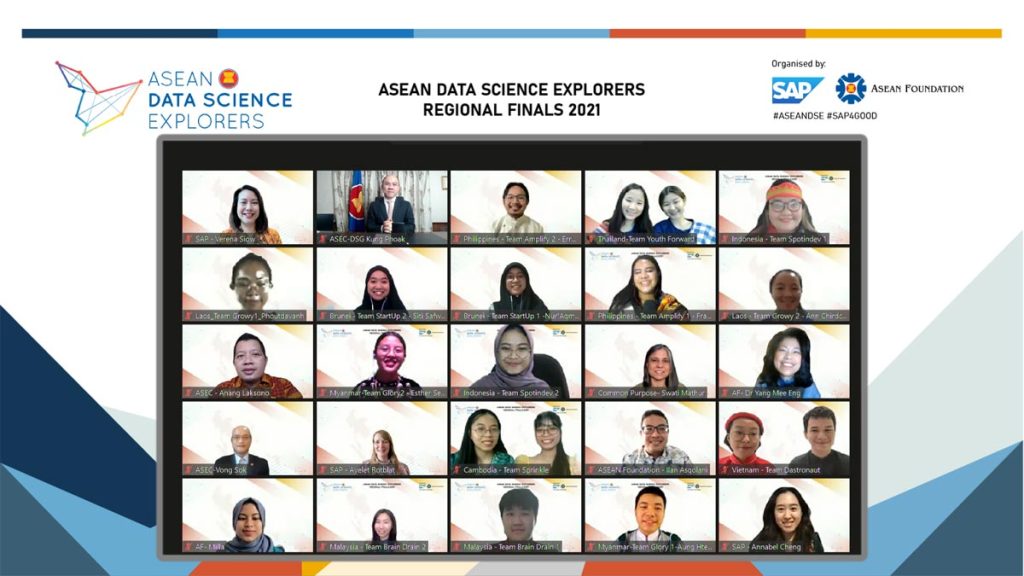 Team Youth Forward from Saint Joseph Convent School crowned as ASEAN Data Science Explorers Regional Finals Champion 2021
ASEAN Data Science Explorers has equipped more than 32,000 youths and educators with essential digital skills since 2017
(ASEAN, 7 October 2021) – SAP SE (NYSE: SAP) and the ASEAN Foundation are pleased to announce that three teams from Saint Joseph Convent School, Kirirom Institute of Technology, and Sunway University have emerged as the winners in the ASEAN Data Science Explorers (ASEAN DSE) Regional Finals 2021 which took place from 5 to 7 October 2021 virtually.
The three teams came out on top for their insights and data-driven solutions that support the United Nations Sustainable Development Goals (UN SDGs), highlighting the importance of climate action and sustainability. Below are the details of the winners:
Team Youth Forward, comprising Rada Prapaikornkiet and Kanjaree Suppawittaya from Saint Joseph Convent School, Thailand, emerged as the first winner. Their presentation was focused on empowering farming towards a sustainable future of the ASEAN Community covering SDG 2 – Zero Hunger, SDG 4 – Quality Education, and SDG 8 – Decent Work and Economic Growth
Team Sprinkle, comprising Chakriya Suy and Serei Neath Reasey and Kirirom Institute of Technology, Cambodia, took the first runner-up position. Their presentation was focused on recycle center is the solution for waste management covering SDG 8 – Decent Work and Economic Growth and SDG 11 – Sustainable Cities and Communities
Team Brain Drain, comprising Ryan Kok Lam Liew and Jia Hui Ng from Sunway University, Malaysia, secured the second runner-up place. Their presentation was focused on prioritising e-waste covering SDG 12 – Responsible Consumption and Production.
"The ASEAN Data Science Explorers competition, the ASEAN Foundation's flagship programme, has proven ASEAN's commitment to preparing our youth to be future-ready. This initiative plays a vital role in igniting students' creative minds in tackling problems with innovative, creative, and sustainable solutions," said The Honourable Dato Seri Setia Awang Haji Hamzah, Minister of Education, Brunei Darussalam.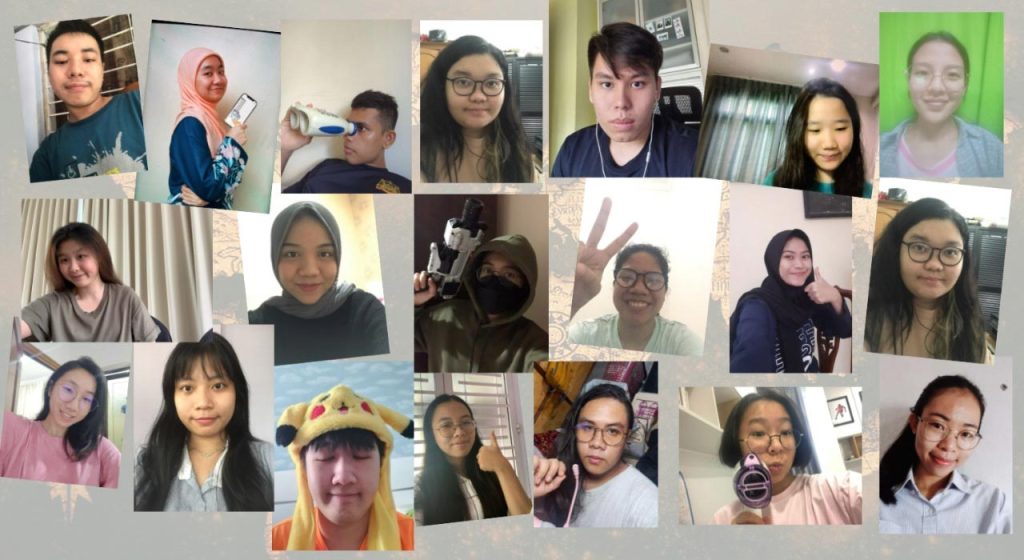 In a three-day virtual event, ASEAN Foundation and SAP organized a series of engaging activities for the regional finalists to build connections, strengthen their future-ready skills and grow their appreciation for being a citizen of ASEAN. The activities include team building and networking sessions on the first day, storyboard presentations and winners' announcements on the second day, and sharing sessions with the ASEAN Secretariat, Permanent Mission of Brunei Darussalam to ASEAN, alumni of ASEAN DSE, and social enterprises on the final day.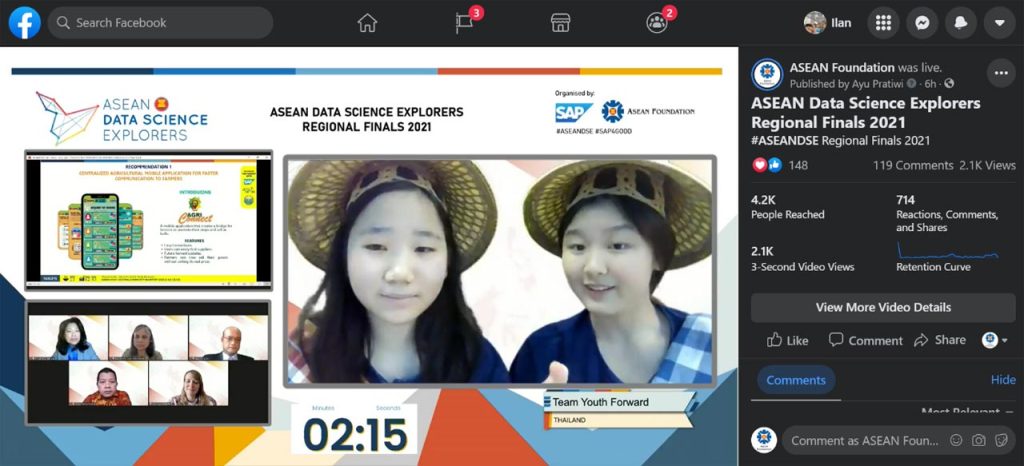 Amidst the ongoing COVID-19 pandemic, ASEAN DSE continues to equip youth from across the region with essential digital skills by organising key activities, such as enablement sessions and data analytics competition in a hybrid model – virtually and in-person, wherever possible. As 2021 marks the fifth-year milestone for ASEAN DSE, the programme has a renewed focus on UN SDGs that target climate and sustainability. In addition, the programme also collaborates with Institutes of Higher Learning (IHLs) and non-governmental organisations (NGOs) in ten ASEAN member states (AMS) to deliver online and in-person enablement sessions to youth, including those with limited access to technology and youth with disabilities. The collaboration with IHLs and NGOs made it possible for the programme to deliver SAP Analytics Cloud training to 11,782 students and lecturers in 2021, with females making up 53% of the youth beneficiaries. These figures mark a 158% increase compared to 2020 (4,563 youths and lecturers). Furthermore, this year saw 714 students from ten ASEAN countries across the region compete to represent their country in the National Finals.
"The ASEAN DSE initiative sets the foundation of a digital world where our ASEAN youth are inspired and motivated to create and solve challenges through technology. This will also cultivate digital inclusion by imbuing youths and lecturers with data analytics skills and nurturing and deepening a pool of homegrown talents in the region to build the workforce of the future," said Verena Siow, President and Managing Director of SAP Southeast Asia.
"Through our collaboration with the ASEAN Foundation, we aim to empower the diverse ASEAN community to be the world's economic powerhouse, be at the forefront of innovation, and drive sustainable economies," added Siow.
"ASEAN Foundation and SAP aspire to help young people in the region to be future-ready by nurturing their 21st-century skills. Aligned with the theme of Brunei's ASEAN Chairmanship 2021 'We Care, We Prepare, We Prosper,' this programme also allows youth to better understand the shared challenges the region must overcome together and fosters a deeper sense of belonging towards the ASEAN Community. We also hope that the collaboration between ASEAN Foundation and SAP can inspire more public-private partnerships in the future to support the development of our future generation," said Dr. Yang Mee Eng, Executive Director of ASEAN Foundation.
"Judges are challenged to decide the winning teams because all teams did equally well. However, all judges evaluated the teams objectively and considered the data presented as an essential element to evaluate team proposals. We also assessed if the teams deeply researched the existing initiatives or programmes implemented by the governments and any other relevant stakeholders. Most importantly, we evaluated if the teams were able to fill the gap to these initiatives through their proposals," said Mr. Vong Sok, Head of Environment Division, ASEAN Secretariat.
"We are so surprised, excited, and honored to be the ASEAN DSE Regional Finals Winner! We didn't expect this at all. This journey has been memorable and life-changing for us. We learned so many new skills from this competition. Lastly, here is our message to ASEAN's youth: Go for it! Don't hesitate to join ASEAN DSE and your voices will definitely be heard, as our slogan: Let's grow together as one ASEAN community that harmonizes in one vision, one identity, and become the remarkable changers of ASEAN's future!" said Team Youth Forward.
The ASEAN DSE Regional Finals 2021 was live-streamed on the ASEAN Foundation's Facebook channel, attracting more than 2,200 views. The live stream videos can be accessed through this link: bit.ly/regionalfinal2021
ASEAN DSE is a regional programme by the ASEAN Foundation and SAP that aims to catalyse activism and critical thinking among university students in ASEAN. Since its inception in 2017, the programme has equipped more than 30,000 youths and 2,000 educators from over 700 institutes of higher learning with data analytics skills. ASEAN DSE engages youth to develop data-driven solutions that highlight six Sustainable Development Goals namely Clean Water and Sanitation (SDG 6), Affordable and Clean Energy (SDG 7), Decent Work and Economic Growth (SDG 8), Sustainable Cities and Communities (SDG 11), Responsible Consumption and Production (SDG 12) and Climate Action (SDG 13), by harnessing SAP's Analytics Cloud software. Learn more about ASEAN DSE from our website (www.aseandse.org) or the Facebook Group.
ASEAN Foundation and SAP share the common objective of continuing the implementation of ASEAN DSE 2021 as a way of transforming our youth into agents of change that can bring about sustainable impact to communities across the region, and supporting the theme of Brunei Darussalam's ASEAN Chairmanship, which is "We Care, We Prepare, We Prosper." Visit the SAP News Center.Follow SAP on Twitter at @sapnews
About SAP
SAP's strategy is to help every business run as an intelligent enterprise. As a market leader in enterprise application software, we help companies of all sizes and in all industries run at their best: 77% of the world's transaction revenue touches an SAP® system. Our machine learning, Internet of Things (IoT), and advanced analytics technologies help turn customers' businesses into intelligent enterprises. SAP helps give people and organizations deep business insight and fosters collaboration that helps them stay ahead of their competition. We simplify technology for companies so they can consume our software the way they want – without disruption. Our end-to-end suite of applications and services enables business and public customers across 25 industries globally to operate profitably, adapt continuously, and make a difference. With a global network of customers, partners, employees, and thought leaders, SAP helps the world run better and improve people's lives. For more information, visit www.sap.com.
About ASEAN Foundation Three decades after ASEAN was established, ASEAN leaders recognised that: there remained inadequate shared prosperity, ASEAN awareness and contact among people of ASEAN. It was of this concern that ASEAN leaders established ASEAN Foundation during ASEAN's 30th Anniversary Commemorative Summit in Kuala Lumpur Malaysia on 15 December 1997. ASEAN Foundation is an organisation from and for the people of ASEAN. The Foundation exists because of one vision: to build a cohesive and prosperous ASEAN Community. As an ASEAN's body, the Foundation is tasked to support ASEAN mainly in promoting awareness, identity, interaction and development of the people of ASEAN. For more info about the ASEAN Foundation, visit: www.aseanfoundation.org
###
Any statements contained in this document that are not historical facts are forward-looking statements as defined in the U.S. Private Securities Litigation Reform Act of 1995. Words such as "anticipate," "believe," "estimate," "expect," "forecast," "intend," "may," "plan," "project," "predict," "should" and "will" and similar expressions as they relate to SAP are intended to identify such forward-looking statements. SAP undertakes no obligation to publicly update or revise any forward-looking statements. All forward-looking statements are subject to various risks and uncertainties that could cause actual results to differ materially from expectations. The factors that could affect SAP's future financial results are discussed more fully in SAP's filings with the U.S. Securities and Exchange Commission ("SEC"), including SAP's most recent Annual Report on Form 20-F filed with the SEC. Readers are cautioned not to place undue reliance on these forward-looking statements, which speak only as of their dates.
© 2021 SAP SE. All rights reserved.
SAP and other SAP products and services mentioned herein as well as their respective logos are trademarks or registered trademarks of SAP SE in Germany and other countries. Please see https://www.sap.com/copyright for additional trademark information and notices
Note to editors:
To preview and download broadcast-standard stock footage and press photos digitally, please visit www.sap.com/photos. On this platform, you can find high resolution material for your media channels. To view video stories on diverse topics, visit www.sap-tv.com. From this site, you can embed videos into your own Web pages, share video via email links, and subscribe to RSS feeds from SAP TV.
For customers interested in learning more about SAP products:
Global Customer Center: +49 180 534-34-24
United States Only: 1 (800) 872-1SAP (1-800-872-1727
For more information, press only:
Anthoni Octaviano, ASEAN Foundation, anthoni.octaviano@aseanfoundation.org, GMT +7
Darryn Lim, SAP, darryn.lim@sap.com, GMT +8