SAP and ASEAN Foundation announce winners at ASEAN Data Science Explorers Regional Finals 2022
Bich Ma Thi Ngoc and Thu Ngo Quoc Anh from RMIT University Vietnam crowned as first winners of the 6th ASEAN Data Science Explorers Regional Finals 2022.
ASEAN Data Science Explorers has equipped more than 43,800 youths and 2,600 educators with essential digital skills since 2017.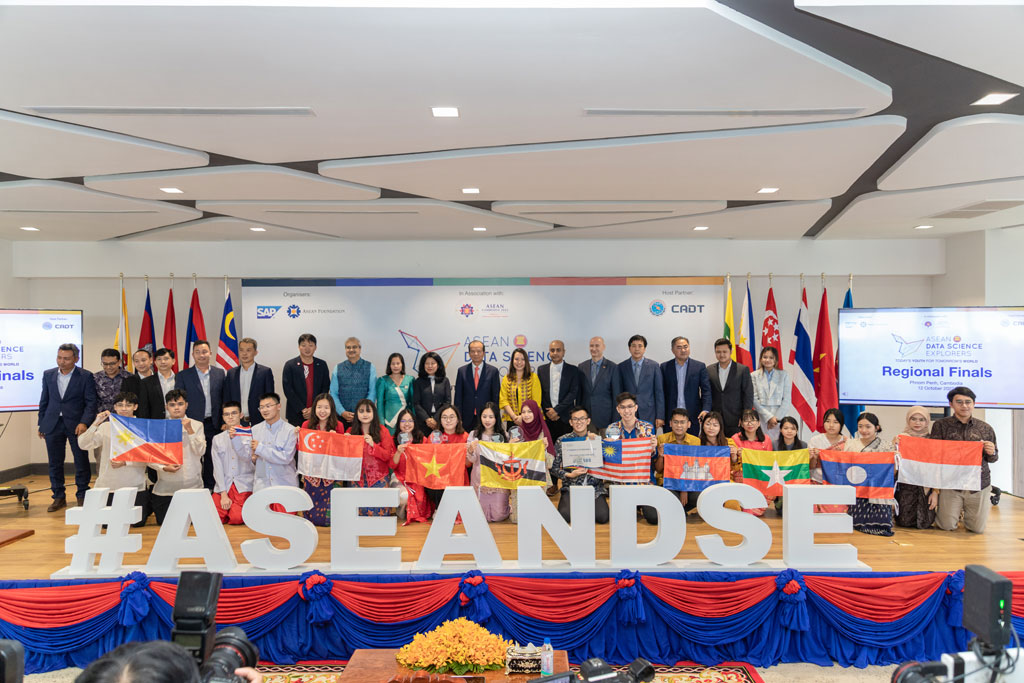 (Phnom Penh, Cambodia, 12 October 2022) – SAP SE (NYSE: SAP) and the ASEAN Foundation are delighted to announce that three teams from RMIT University Vietnam, Universiti Brunei Darussalam, Taylor's University, and Sunway University have emerged as the winners in the ASEAN Data Science Explorers (ASEAN DSE) Regional Finals 2022 which took place from 10 to 12 October in Phnom Penh, Cambodia. Below are the details of the winners:
Team Green Letter, comprising Bich Ma Thi Ngoc and Thu Ngo Quoc Anh from RMIT University Vietnam, Viet Nam emerged as first winner. Their presentation was focused on e-waste management.
Team Brunei Adventurer, comprising Aida Aimanudin and Dk Amirah Najibah Pg Aliuddin from Universiti Brunei Darussalam, Brunei Darussalam took the first runner-up position. Their presentation was focused on how fashion affects the environment.
Team 002, comprising Cham Swee Han from Taylor's University and Tan Yong Ze from Sunway University, Malaysia secured the second runner-up place. Their presentation was focused on sustainability in farming practices among smallholders.
"We are very happy to win first place in the 6th ASEAN DSE Regional Finals 2022. As economic and finance students, data analytics is a field that is quite new to us. Winning this competition has given us an invaluable opportunity to explore and excel in a skill that is crucial for young people to thrive in the digital era," said Bich Ma Thi Ngoc from Team Green Letter, Viet Nam.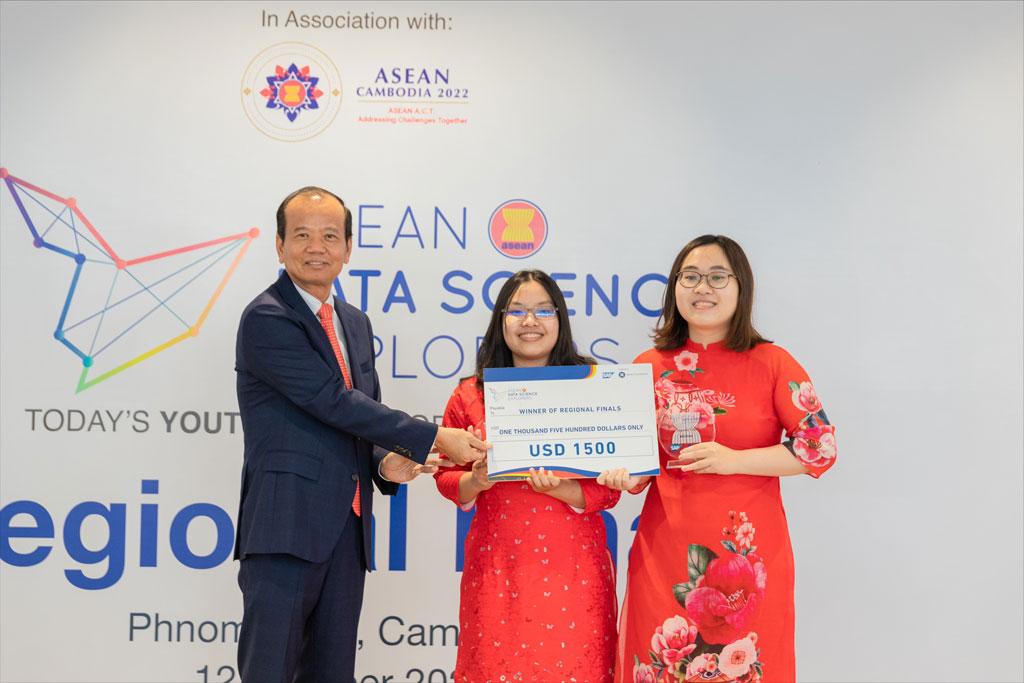 "Participating in the 6th ASEAN DSE Regional Finals 2022 has been a very special experience for us. It is truly a challenging but rewarding journey that has made us better as a young person," said Bich's teammate, Thu Ngo Quoc Anh.
The three teams were selected as winners by the judging committee for their excellent data-driven insights and solutions that highlighted six United Nations Sustainable Development Goals (UN SDGs) namely SDG 6 – Clean Water and Sanitation, SDG 7 – Affordable and Clean Energy, SDG 8 – Decent Work and Economic Growth, SDG 11 – Sustainable Cities and Communities, SDG 12 – Responsible Consumption and Production, and SDG 13 – Climate Action.
"This morning I had a chance to see a lot of inspiring presentations from 20 young people from all ASEAN Member States. I really like that they choose so many different topics that are crucial to be addressed right now for us to secure the future of this region. Their proposals had different depth and ideas with different levels of applicability. However, the most important thing is that they understood the problems and figured out the best solutions for them," said Mr. Frank Jattke, Team Leader of GIZ ASEAN in Cambodia, who was part of the judging committee.
Throughout the three-day event, ASEAN Foundation and SAP organised a series of engaging activities for the regional finalists to build connections, strengthen their future-ready skills and grow their appreciation for being a citizen of ASEAN. One of the activities was a learning visit to BookMeBus and UNDP Cambodia on the second day. The regional finals culminated with the storyboard presentations and winners' announcements on the final day, which were presided by the Minister of Posts and Telecommunications of Cambodia, His Excellency Chea Vandeth.
"The ASEAN Data Science Explorers embodies ASEAN's commitment in preparing ASEAN students to be future ready. This initiative plays an important role in igniting the students' creative minds and addressing common issues with innovative and sustainable solutions. The competition aims to encourage innovation and creativity in the region and provide the necessary platform to promote data analytics, which is very much aligned to the ASEAN Digital Masterplan 2025. Cambodia, as a chairman of ASEAN this year, is honored to host this programme," said His Excellency Dr. Chea Vandeth.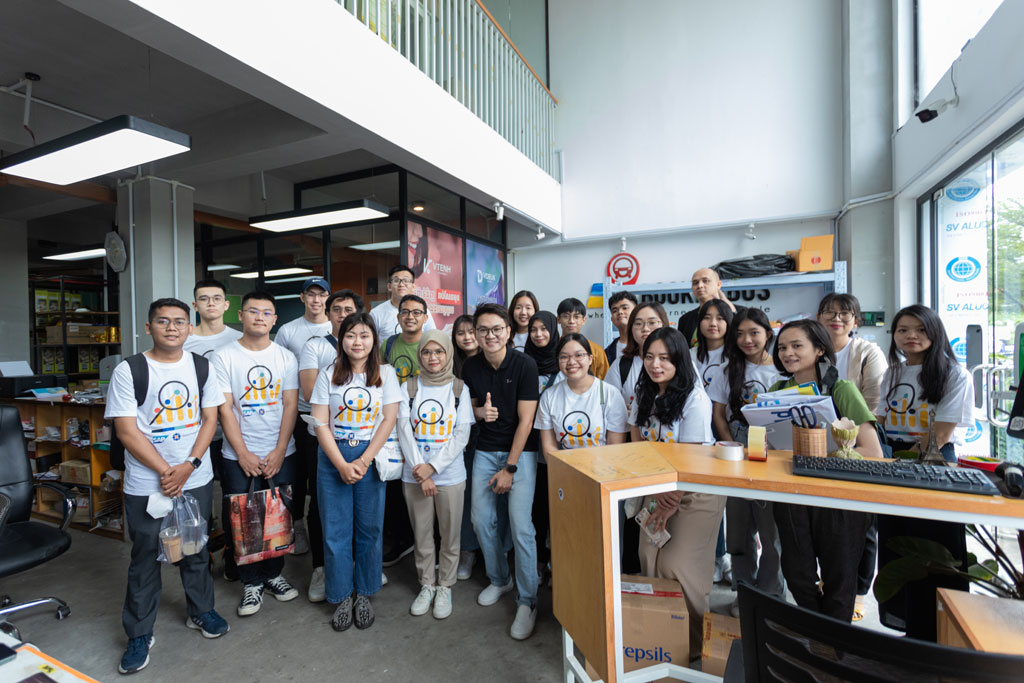 "I believe this collaborative programme will build upon our new generation skills on teamwork, interaction and communication as well as working in highly demanding environment," added Dr. Chea.
The ASEAN DSE Regional Finals 2022 was attended by more than 120 people coming from public, government, and private sectors. To ensure that more people can watch and support the finalists, the event was also livestreamed on the ASEAN Foundation's Facebook channel, reaching more than 2,300 people. The livestream video can be accessed through this link: https://www.facebook.com/ASEANFoundation/videos/1214656659079491
ASEAN Foundation and SAP share the common objective of continuing the implementation of ASEAN DSE 2022 as a way of transforming youth into agents of change that can bring about sustainable impact to communities across the region and supporting the theme of Cambodia's ASEAN Chairmanship, which is "ASEAN A.C.T.: Addressing Challenge Together."
Amidst the ongoing COVID-19 pandemic, ASEAN DSE strive to equip youth from across the region with essential digital skills by organising key activities, such as enablement sessions and data analytics competition in a hybrid model – virtually and in-person, wherever possible. Now in its sixth year, the programme has a renewed focus on UN SDGs that target climate and sustainability.
The programme also collaborates with institutes of higher learnings (IHLs), non-governmental organisations (NGOs), and ASEAN DSE alumni in ten ASEAN Member States to deliver online and in-person enablement sessions to youth, including those with limited access to technology and youth with disabilities.
The collaboration with IHLs, NGOs, and programme alumni made it possible for the programme to deliver SAP Analytics Cloud training to 10,457 students, including disadvantaged youths, and 404 lecturers in 2022, with females making up 59 percent of the youth beneficiaries. Furthermore, this year saw 680 students from ten ASEAN countries across the region compete to represent their country in the National Finals.
"The future of work is increasingly data-driven, and this digital revolution will require digital skills, a key foundation to many jobs of the future. Through ASEAN DSE, SAP and ASEAN Foundation aims to empower ASEAN youth to reach their full potential, and harness synergies in the ecosystem to collectively solve the world's social, economic, and environmental challenges," said Verena Siow, President & Managing Director, SAP Southeast Asia.
"Technology can be a powerful equalizer, and with access to the right digital training, tools and knowledge, we can Transform Tomorrow, Today to help bridge the skills gap and help build a more sustainable and intelligent ASEAN," added Siow.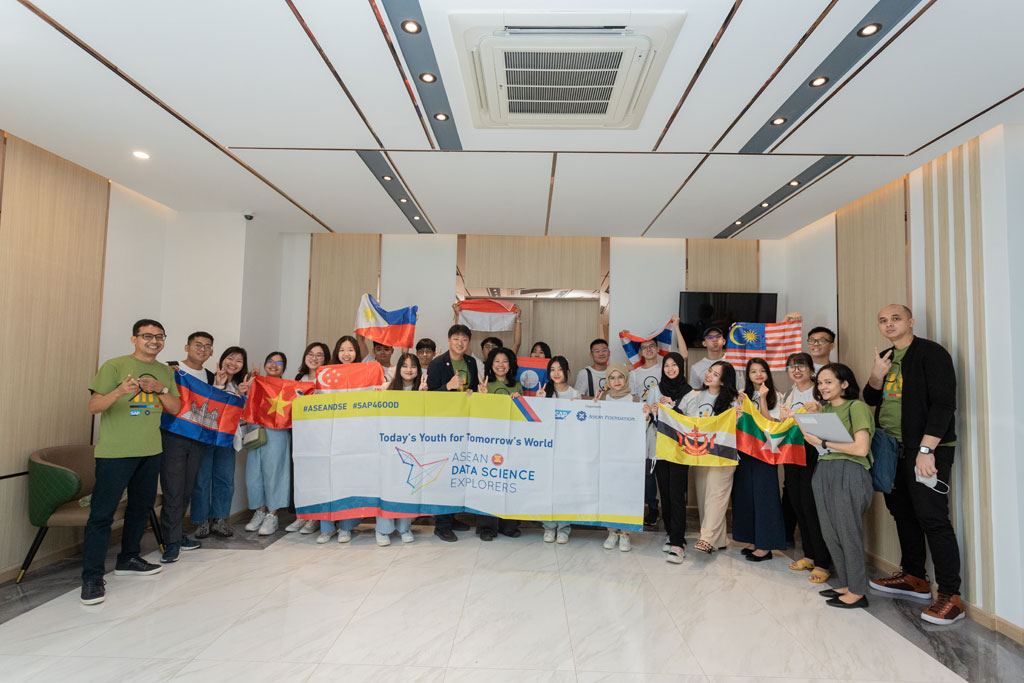 "The 6th ASEAN DSE Regional Finals 2022 marks the culmination of a year-long journey to empower and equip youth across ASEAN with essential digital skills. As in the previous years, we always strive to reach greater heights by injecting innovation to our programme. This year, we have strengthened the implementation of our enablement session by working with committed local implementing partners in six countries, namely Pemimpin.id and Fatihunnur Foundation in Indonesia, Technovator-Xiang Miang in Lao PDR, Thate Pan Hub in Myanmar, Global Peace Foundation in the Philippines, and Will to Live Center in Viet Nam," said Dr. Yang Mee Eng, Executive Director of ASEAN Foundation.
ASEAN DSE is a regional programme by the ASEAN Foundation and SAP that aims to catalyse activism and critical thinking among university students in ASEAN. Since its inception in 2017, the programme has equipped more than 43,800 youths and 2,600 educators from over 817 IHLs with data analytics skills, by harnessing SAP's Analytics Cloud software. Learn more about ASEAN DSE by visiting www.aseandse.org or its Facebook Group.
Visit the SAP News Center.Follow SAP on Twitter at @sapnews
About SAP
SAP's strategy is to help every business run as an intelligent enterprise. As a market leader in enterprise application software, we help companies of all sizes and in all industries run at their best: 77% of the world's transaction revenue touches an SAP® system. Our machine learning, Internet of Things (IoT), and advanced analytics technologies help turn customers' businesses into intelligent enterprises. SAP helps give people and organizations deep business insight and fosters collaboration that helps them stay ahead of their competition. We simplify technology for companies so they can consume our software the way they want – without disruption. Our end-to-end suite of applications and services enables business and public customers across 25 industries globally to operate profitably, adapt continuously, and make a difference. With a global network of customers, partners, employees, and thought leaders, SAP helps the world run better and improve people's lives. For more information, visit www.sap.com.
About ASEAN Foundation
Three decades after ASEAN was established, ASEAN leaders recognised that: there remained inadequate shared prosperity, ASEAN awareness and contact among people of ASEAN. It was of this concern that ASEAN leaders established ASEAN Foundation during ASEAN's 30th Anniversary Commemorative Summit in Kuala Lumpur Malaysia on 15 December 1997. ASEAN Foundation is an organisation from and for the people of ASEAN. The Foundation exists because of one vision: to build a cohesive and prosperous ASEAN Community. As an ASEAN's body, the Foundation is tasked to support ASEAN mainly in promoting awareness, identity, interaction and development of the people of ASEAN. For more info about the ASEAN Foundation, visit: www.aseanfoundation.org
# # #
Any statements contained in this document that are not historical facts are forward-looking statements as defined in the U.S. Private Securities Litigation Reform Act of 1995. Words such as "anticipate," "believe," "estimate," "expect," "forecast," "intend," "may," "plan," "project," "predict," "should" and "will" and similar expressions as they relate to SAP are intended to identify such forward-looking statements. SAP undertakes no obligation to publicly update or revise any forward-looking statements. All forward-looking statements are subject to various risks and uncertainties that could cause actual results to differ materially from expectations. The factors that could affect SAP's future financial results are discussed more fully in SAP's filings with the U.S. Securities and Exchange Commission ("SEC"), including SAP's most recent Annual Report on Form 20-F filed with the SEC. Readers are cautioned not to place undue reliance on these forward-looking statements, which speak only as of their dates.
© 2021 SAP SE. All rights reserved.
SAP and other SAP products and services mentioned herein as well as their respective logos are trademarks or registered trademarks of SAP SE in Germany and other countries. Please see https://www.sap.com/copyright for additional trademark information and notices.
Note to editors:
To preview and download broadcast-standard stock footage and press photos digitally, please visit www.sap.com/photos. On this platform, you can find high resolution material for your media channels. To view video stories on diverse topics, visit www.sap-tv.com. From this site, you can embed videos into your own Web pages, share video via email links, and subscribe to RSS feeds from SAP TV.
For customers interested in learning more about SAP products:
Global Customer Center: +49 180 534-34-24
United States Only: 1 (800) 872-1SAP (1-800-872-1727)
For more information, press only:
Anthoni Octaviano, ASEAN Foundation, anthoni.octaviano@aseanfoundation.org, GMT +7
Darryn Lim, SAP, darryn.lim@sap.com, GMT +8

SAP Southeast Asia Press Room; press@sap.com
Please consider our privacy policy. If you received this press release in your e-mail and you wish to unsubscribe to our mailing list please contact press@sap.com and write Unsubscribe in the subject line.