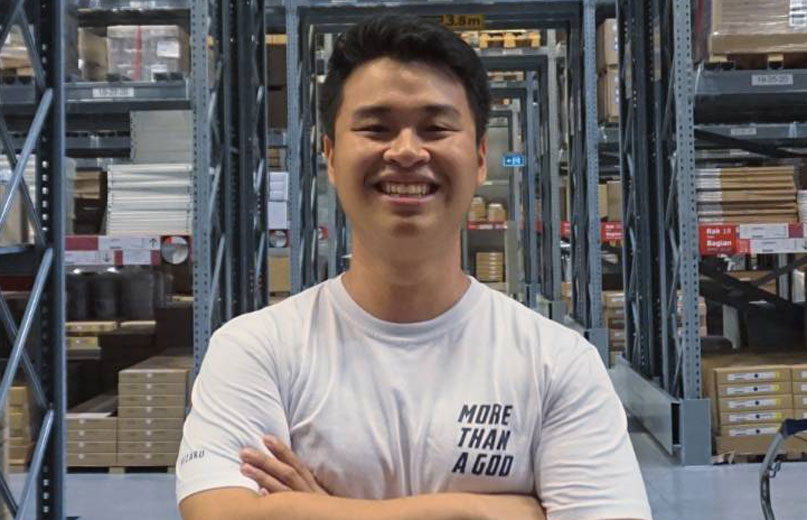 Will Gunawan, one of the ASEAN DSE 2018 alumni currently working at by.U Indonesia, the first and largest digital telco provider in Indonesia as a Product Manager & UI/UX Designer simultaneously. He strongly believes that data analytics skill and experience from ASEAN DSE reallyhelped him a lot especially in analysing user's behavior by looking at Firebase or Tagging datainside the app. This analysis is super important as it becomes the foundation of the solution/features he is developing for all by.U users.
He said that he couldn't stop himself from joining the ASEAN DSE at that time. Back then, onthe 5th semester of his university life, he was really into data analysis and solution. Therefore, he started actively joining various competitions to enrich his experience and develop himself and ASEAN DSE was one of them.
He never regrets joining ASEAN DSE. First of all, he could explore SAP Analytics Cloud, one of the data analytics solutions, more deeply, provided with its best practices based on references or modules given. Not only that, as a participant, he was able to explore SAP Analytics Cloud more thoroughly through the webinars and tutorial videos provided by the ASEAN Foundation and SAP. (I cannot understand this part) Lastly, he could also get top-notch references from the previous winners on the website which helped him to grasp which solution should be presented.
He didn't stop his journey merely as a participant but decided to move forward as the facilitator of the enablement session, data analytics training using SAP Analytics Cloud as the main platform for data analytics. The main factor was to give back all the support he had received to the ASEAN DSE community. On top of that, he wanted to help raise awareness of data analytic among ASEAN youths and how powerful it could be. With this motivation, he moderated 3 training sessions: two hosted by Non-Governmental Organisations (NGOs) based in Indonesia and the other one dedicated to the ASEAN youth aged 15 to 30 taking full-time education.. The enablement sessions with the NGOs were targeting disadvantaged youths across Indonesia, the commitment of the ASEAN Foundation and SAP to make the ASEAN DSE programme more inclusive.
Being a facilitator let him to re-learn SAP Analytics Cloud and explore it even further. As a participant, he had no pressure on making mistakes since he could get some feedback of his solution from the panel of judges consisting of professionals and scholars or learn from new friends by sharing thoughts and perspectives. However, as a facilitator, he was obliged to master SAP Analytics Cloud in order to explain all the details correctly to the participant. This kind of responsibility allowed him to learn harder and deeper.
To provide better training session as possible, he tried to make sure that all participants have a good grip at every step and exercise, keeping his pace slow. In addition, he had always explained the purpose of every feature inside the SAC so that participants could utilise it on their own. By playing a role of facilitator, he could truly enjoy achieving the goal of spreading data analytics awareness to wider audiences and contributing to the ASEAN community!
He highly recommends ASEAN youths to join ASEAN DSE programme.
He said, "You'll get outstanding credential which you could put up in your CV, new friends from across ASEAN, fun trip as you're not only competing. Last but not least, this competition really hones your analytical skill which is very beneficial when you're working or starting whatever career path you choose later on."
"For anyone, especially youngsters all across ASEAN, joining this program will definitely allow you to experience a stepping stone for your career and also personal development. So, it will be your loss if you're missing such an exquisite once-in-a-lifetime experience that could change the course of your life :D"